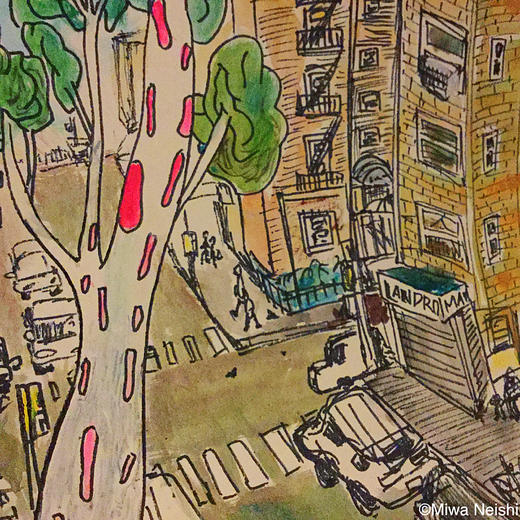 ニューヨークに引っ越してきてから半月が経ちました。部屋探しという難関が、2週間にも満たない短い間の出来事だったのに、1ヶ月くらいの長さを感じるほど辛く、大変なものでした。遠くにいる両親の応援無しではホームレスになってしまうと本気で思えてしまうくらい!心細さを体験しました。大きな街に誰も知らずに引っ越しをするって、こんな感じなんだなぁ。両親には頭が上がりません。
さて、セントルイスでの制作生活(アーティスト・イン・レジデンシー)が6月から8月の半ば、(2ヶ月間と少し)続いた私はすっかり気が落ち着いてしまいましたよ。森の中にある静かなお家で、ひたすら毎日自分と対面しつつ制作を続けられたあの生活は、本当に特別なものでした。ご飯を作ったり、庭を歩いたり、自分が自分である事を愛でるように、自分の世話をすることを学べたと思います。 
だから今、この大きな街に移り住むことができて、たくさんのいろんな人に囲まれ、流れ狂う時に身を置いたとしても、心の中でちゃんと自分をもって、自分のペースで歩いて行ける気がします。このタイミングに感謝。
ニューヨークの生活は、それはそれは、みんなが働いて生活を共に頑張ろうとする活気があります。どこを歩いても、皆んなが何処かに向かって歩いている。だから、迷う人は迷い、進む人は進む。自分の心次第で行き先が決まる所だと思います。
私は学生を終えて初めて就職ができて、やっと自分の足で歩いていくのだと、とても身が引き締まる思いです。職場の人やルームメイト、皆んなとても良い人に出会えたのでホッとしています。これからは、生活の主軸が「制作」から、「仕事」に移ります。が!仕事も制作のうちにきっと役立つものと信じて、隠れアーティストとして生活していきたいと思います。これからも、どうぞよろしくお願いしますね。
It has been half a month since I moved to NYC.  I felt like it has been at least a month of worries and problems that I have gone through with moving process which actually only took about two weeks. I seriously panicked if I was going to be a homeless without the help from my parents from far away. I had no idea it would make me feel this much of loneliness and anxiety to move in to a big-big city like this (as I'm from Tokyo).. I cannot thank enough to my parents in Japan. 
For the past two and half months, I was in St.Louis for an artist-in-residency at Paul Artspace. There, I could totally devote myself in making art everyday, surrounded by trees and nature in a quiet house. This became a very very precious experience for me.  Living everyday, cooking and making myself walk in trees, as if I'm taking care of myself like I am my own pet, I actually learned to love myself. 
So now on, as I actually made it to this big city, surrounded by many different people and fast rolling time, I feel like I can have my own rhythm for my life a lot better than before. I really thank to the good timing of this transition.  Because I see there are so much energy in NYC that everyone works hard!! Everywhere you go, everyone is heading to somewhere. It makes me feel that the destination depends on my heart, either to get lost, or to move on. 
As I got this opportunity to work for the first time after a long life of being a student, I feel a good amount of pressure to start walking by myself. I am glad that I met nice people in job and roommates in this new place. From now on, my life shifts from "working for art" to "working for job" ...but! I believe my job will also contribute to my art eventually in the future. I will enjoy the life of "hidden artist" for a while. I hope you will come back to see me updating little things! Thank you.